Echo Chalet offers a wide variety of services to our many welcome visitors: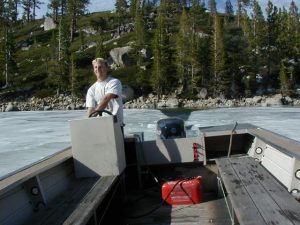 Marina Operations: (click links for more information)
• Taxi service across Lower and Upper Echo Lakes, 
• canoe, and kayak rentals (all "weather permitting").
• Marine services and petroleum products.
• Launch Ramp
• Motor Service
• Shop Services / Parts and Accessories / Petroleum Products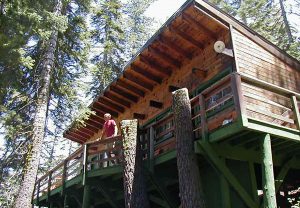 Rental Cabins : Chaletlées
The Chalet has 8 rustic units, all with a 2 night minimum.  Look here for a Description and information on our Policies and Rates.
Deli / Fountain / Store
The Chalet's Grocery Store and Soda Fountain are the main components of the lodge building.  The Deli makes sandwiches to order during midday hours, and ice cream, candy, coffee, and hot chocolate are also for sale.  The Store is stocked with basic groceries, sporting goods, and hardware supplies.

Office / Post Office Services  
General information, Post Office,  Housekeeping cabin reservations, Fax/copy services,  The Chalet has been a licensed Contract Postal Unit (CPU) since the 1920's.  We provide basic services between the hours of 11 am to 2 pm, except Sundays and Holidays.  Information for Pacific Crest Trail Hikers is here
Post-Season Services
When our summer season ends on the Tuesday after Labor Day  our activities focus on boat storage, resort winterization & maintenance, and cabin patrol. Limited services may be available, but are strictly dependent on Crew availability (note: the boat taxi service also depends on weather conditions and water level).  When the channel is no longer navigable (for our larger boats) the taxi will only go to the upper end of Lower Echo Lake.  The rate at that time is reduced to $9.00 / person (one-way) with a three person (or $27.00) minimum. Our Post Office continues to operate from 11am to 2pm thru September 30th (you may have to locate a crew member in the marina or boathouse). Deli and Fountain services cease after Labor Day.